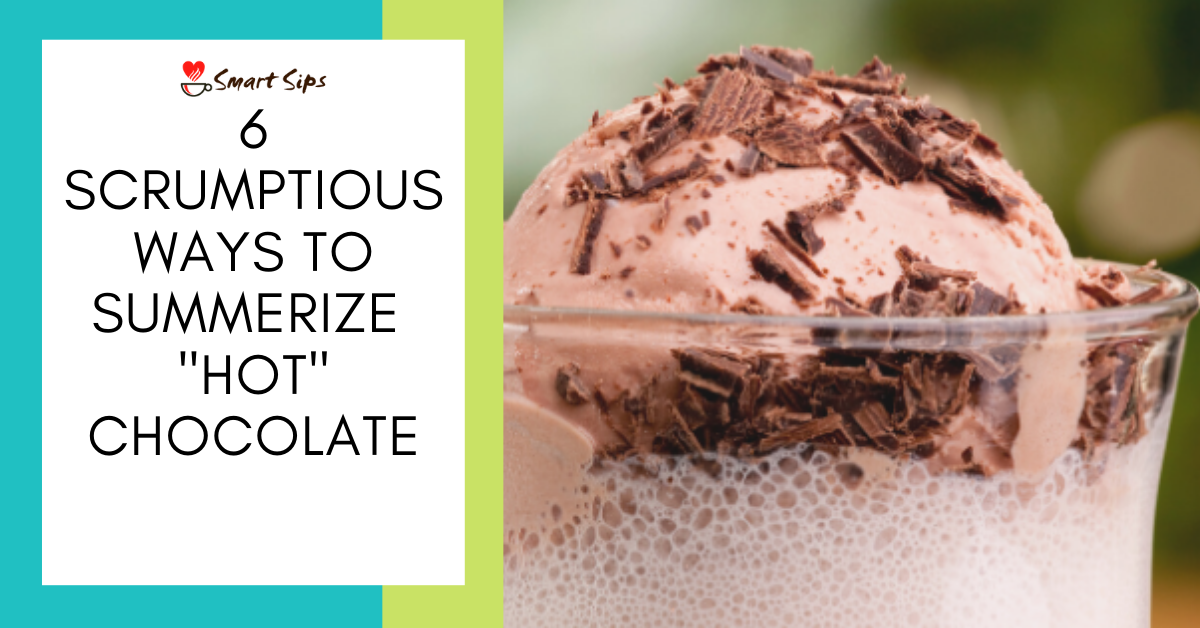 6 Scrumptious Ways to Summerize "Hot" Chocolate
From childhood to adulthood, one of the best feelings in the world is coming in from a freezing cold day of playing outside in the snow to a piping hot mug of rich and creamy hot chocolate.
Chocolate is arguably one of the most delicious, mood-elevating foods on the planet, and whoever invented drinking chocolate is quite simply a genius. 
But just because the temperatures are rising doesn't mean we have to stop enjoying hot cocoa. We've put together some tasty ways to enjoy hot chocolate on even the hottest summer day.
Perfect for kids and adults alike, here are some chilly 'hot' chocolate ideas, ideal for summer sipping.
1. Iced Hot Chocolate
Move over iced coffee and make room for iced hot chocolate! Whether you add ice cubes to your cup, or brew then refrigerate to make it nice and frosty, this is the perfect treat on a warm summer day.
2. Hot Chocolate Ice Pops
We love snacking on fudgesicles while poolside on hot summer day.  It's an ice cold chocolate-fix that totally hits the spot!  Make your own in a variety of different flavors. 
With Smart Sips' hot chocolate flavors including Red Velvet, Bananas Foster, Strawberries & Cream, Molten Lava Cake, Blueberry and so many more, brew your favorites, pour in an ice pop mold, freeze and voila... the perfect summer treat!
3. DIY Chocolate Milk
Do your kids love milk? Kick things up a notch and add hot chocolate ice cubes to their glass. DIY chocolate milk is not only delicious, but you can have fun trying different flavors. Just brew your preferred flavors, pour into your ice cube tray, freeze and enjoy!
Our favorite... Molten Lava Cake Hot Chocolate ice cubes are simply delish!
4. Hot Chocolate Slushy
Summertime means slushy-time. Forget the sugary slushies and make yourself a Smart Sips' hot chocolate slushy! Only 6 grams of sugar and 70 calories per pod. 
Just brew your favorite flavor, chill, put in your blender with milk or your preferred milk alternative, add ice, blend and enjoy!
Our favorite hack.... adding frozen strawberries or raspberries to our hot chocolates instead of ice. Mmmm Mmmm good....
5. Hot Chocolate-tini
This one's for the chocolate-loving adults! Get in the summer 'spirit' by adding liquor to your hot chocolate.
Brew Smart Sips' hot chocolate, refrigerate, add Godiva liquor and let's toast. Add some coconut rum to our Bananas Foster Hot Chocolate for another summer brew.
6. Hot Chocolate Ice Cream Float
Because ice cream makes everything better... 
Brew your favorite Smart Sips' hot chocolate, chill for 30 minutes and add a scoop of ice cream! 
Our personal favorite.... Smart Sips' French Vanilla Hot Chocolate with a big scoop of vanilla ice cream. (And of course whipped cream and tons of sprinkles).